Our goal at Longevity is to make physical therapy a positive and an easy path to recovery. When we receive your referral and make your appointment for your initial evaluation, we will send you an email with a secure link so you can fill out your paperwork in advance of your appointment.
Should you prefer to download and print out our New Patient Form Pack, you may do that here.  Please bring it completed to your first appointment with your insurance card and form of payment
When you schedule a Physical Therapy appointment at Longevity Physical Therapy (and you wish to bill your treatments through your insurance) our Front Office Specialists will work to verify your insurance benefits.
Longevity Physical Therapy accepts patients without a physician referral.
In the state of California, patients are able to be evaluated and treated by licensed physical therapists without a physician referral under the legislation. This means you no longer have to wait to get treated for injuries that would immediately benefit from physical therapy services.
This allows patients to expedite treatment while saving money. Expediting treatment time helps reduce total injury time and allows you return to normal function faster. It saves you from having a costly doctor visit for a prescription prior to a physical therapy visit.
For self-pay patients and some insurances, you do not need a physician referral to come to Longevity Physical Therapy for treatment. However, certain insurances may require a physician referral in order to cover your PT visits. Call our office and our Front Office Specialist will be happy to verify benefits with your insurance company.  We will contact your insurance provider for you to determine your benefits under direct access
We accept most PPO insurances
including but not limited to this list:
Here are explanations of three important insurance terms that represent the portion of the medical bill that you are responsible for.
A deductible is usually a fix dollar amount that you have to pay out of your own pocket before the insurance will cover the remaining eligible expenses. Depending on the insurance plan, the deductible can range from $0 all the way up to thousands of dollars. It can also be paid per sickness/injury (per condition) or per certificate period.
Copays are a fixed amount of money you pay each time you come to physical therapy. Unlike deductibles, copays tend to be smaller dollar amounts and are applied on a per visit basis so that that you would have to pay it each visit. At Longevity, your copay will be collected prior to every session.
Coinsurance is a percentage, and represents the percentage cost that you will need to pay and the insurance plan will pay towards your eligible medical expenses. Some common coinsurance examples include: 80/20, 90/10 and 50/50 – so if you have 80/20 coinsurance on your insurance plan, it means that the insurance company will cover 80% of your medical cost and you are responsible for paying the other 20% yourself. A deductible is commonly use together with coinsurance. In this case you would pay the deductible amount first and after you would have the left over coinsurance amount.
What to expect at your first visit
Arrive 15 Minutes Early
For your first appointment, please arrive 15 minutes prior to your scheduled appointment. Payment will be collected at the beginning of your appointment.
As a courtesy to you, the Front Office Specialist has called your insurance and will go over your benefits prior to your first appointment.
Evaluation
At Longevity Physical Therapy we value learning as much about our patients as possible during the first visit. This initial appointment will start with a private conversation between you and your therapist. Your therapist will work to learn your individual medical history and specific goals for your recovery. He or she will then perform a thorough physical evaluation including clinical diagnostic tests, and for most patients, a task specific Functional Movement Assessment. Through this assessment, your therapist will analyze your movement patterns (noting flexibility limitations, muscle imbalances, weaknesses, joint stability, mobility, stiffness, etc.) and how these movement patterns relate to both your symptoms and the underlying cause of your problems.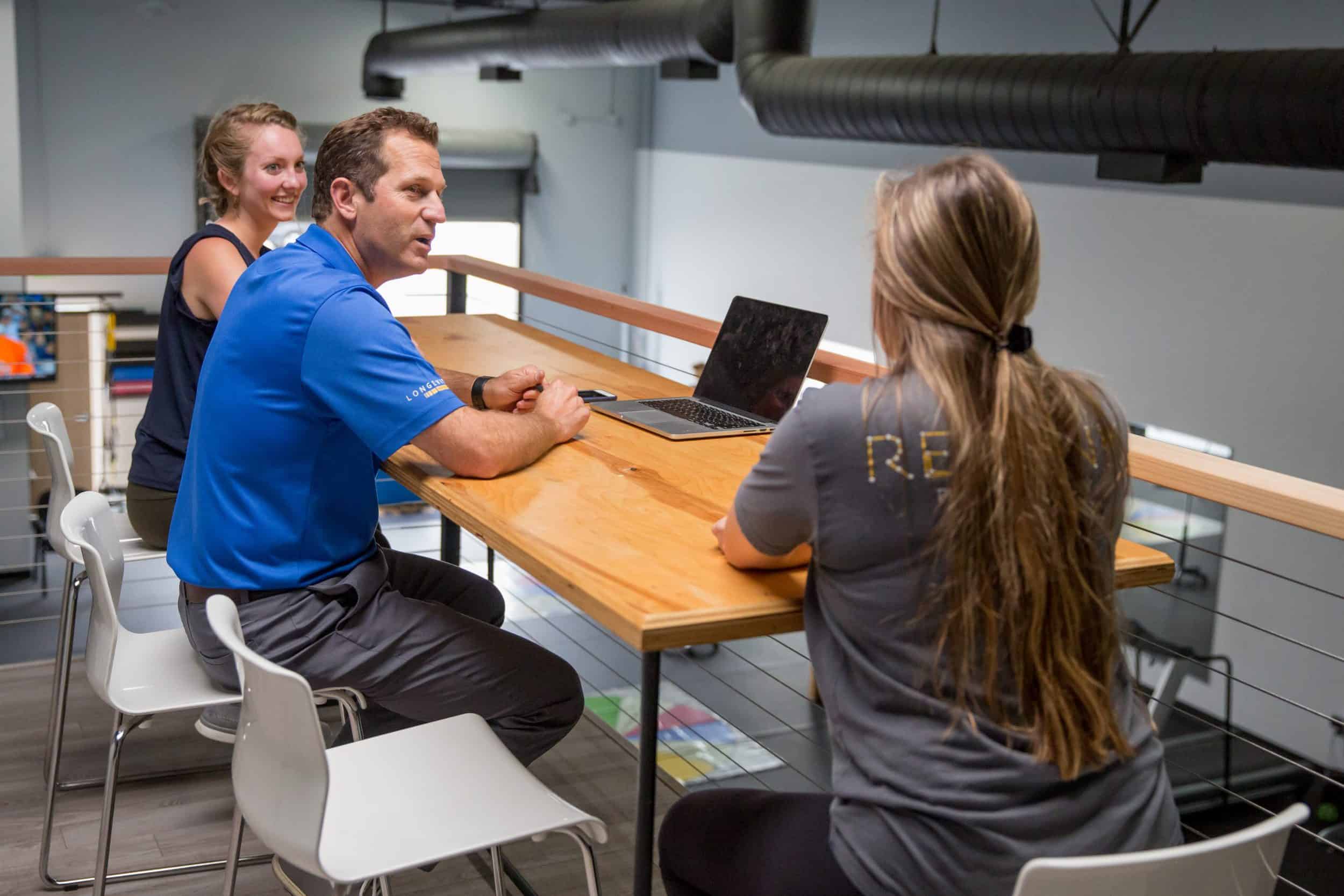 Your therapist will then share with you their prognosis and work with you to create a timeline and roadmap to achieve your individual goals. This includes how many times you should see the therapist per week, how many weeks you will need therapy, home exercise programs, patient education, short-term/long-term goals, and what is expected after discharge from therapy. Each patient will go home with pictures and/or video of an individualized Home Exercise Program to help the patient achieve their goals as quickly as possible. This plan is created with input from you, your therapist, and your doctor. This initial visit should last approximately 60-75 minutes.
Getting you the help you need
Many physical therapy patients will come to Longevity Physical Therapy after first seeing a General Practitioner and/or Surgeon. However, California is a direct-access state, meaning you can receive physical therapy treatment without a prescription from a physician. At your initial evaluation, your Physical Therapist may be able to diagnose your problem. In some cases, your Therapist may refer you to a specialist or another medical office for imaging. We have close relationships with the best physicians in San Diego. If we cannot help you, we will strive to connect you with the medical professionals who can.
Please wear comfortable athletic clothing, as well as athletic shoes and socks, for your Physical Therapy and/or Personal Training appointment.