Providing One on One Personalized Care
with a Doctor of Physical Therapy.
How Physical Therapy Should Be
Longevity Physical Therapy is the premier physical therapy clinic in San Diego.
We strive to restore function, enhance mobility, and amplify your performance. Physical therapy isn't just for recovering athletes; every person of every age can benefit from our services. Our goal is to maximize the youth you have in you today. With four locations throughout San Diego county, physical therapy is close by!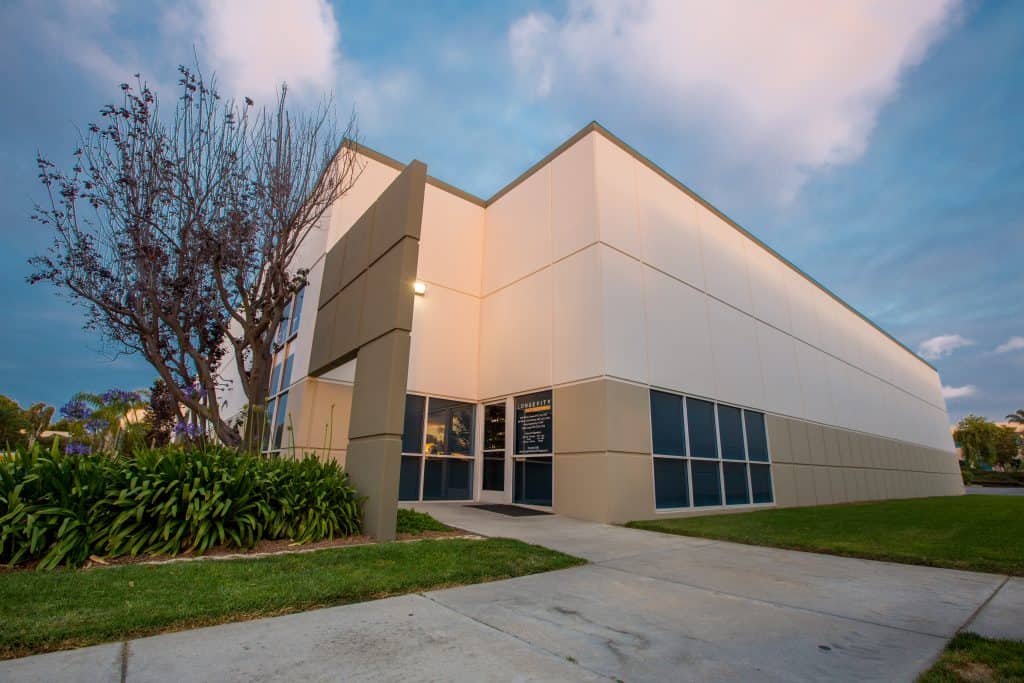 Bressi Ranch
Bressi Ranch
Our state-of-the-art Bressi Ranch clinic is conveniently located off Palomar Airport Road. At Longevity Bressi Ranch, we practice Applied Functional Science.
Facility Information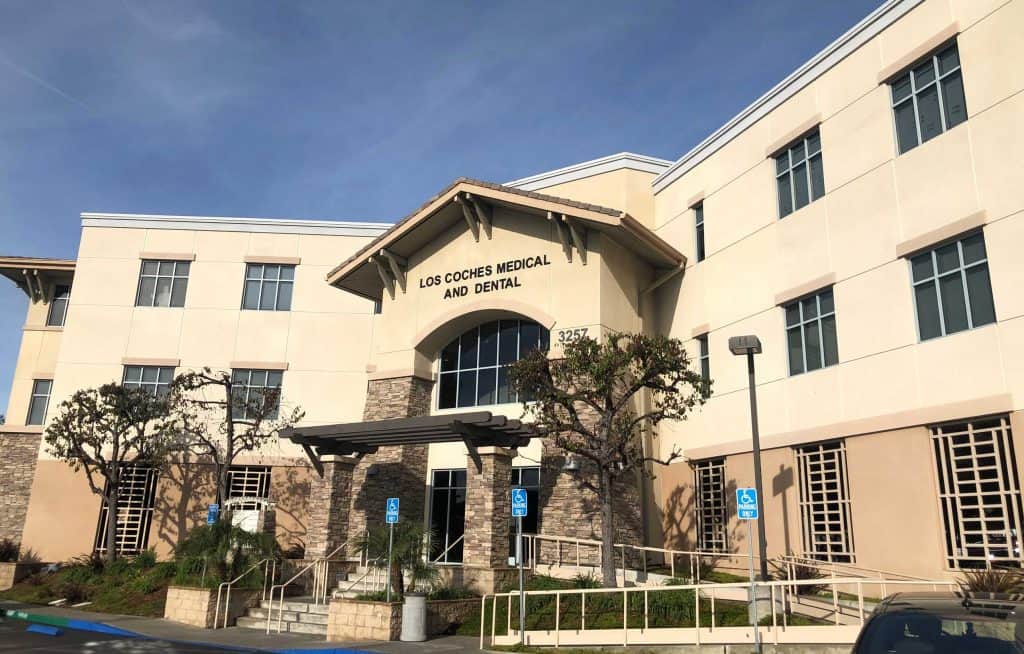 La Costa
La Costa
Our second state-of-the-art La Costa clinic in North County clinic is located in the Los Coches Village Medical Center in Carlsbad.
Facility Information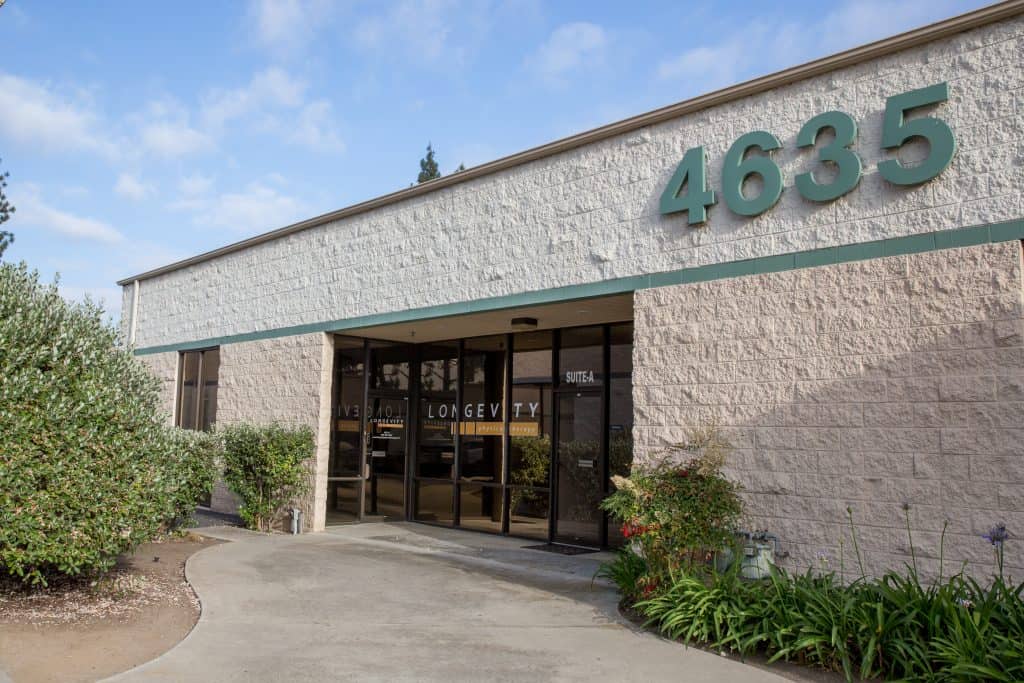 San Diego
San Diego
Our San Diego clinic is a 4000 square foot state-of-the-art functional physical therapy facility. At Longevity San Diego, we practice Applied Functional Science.
Facility Information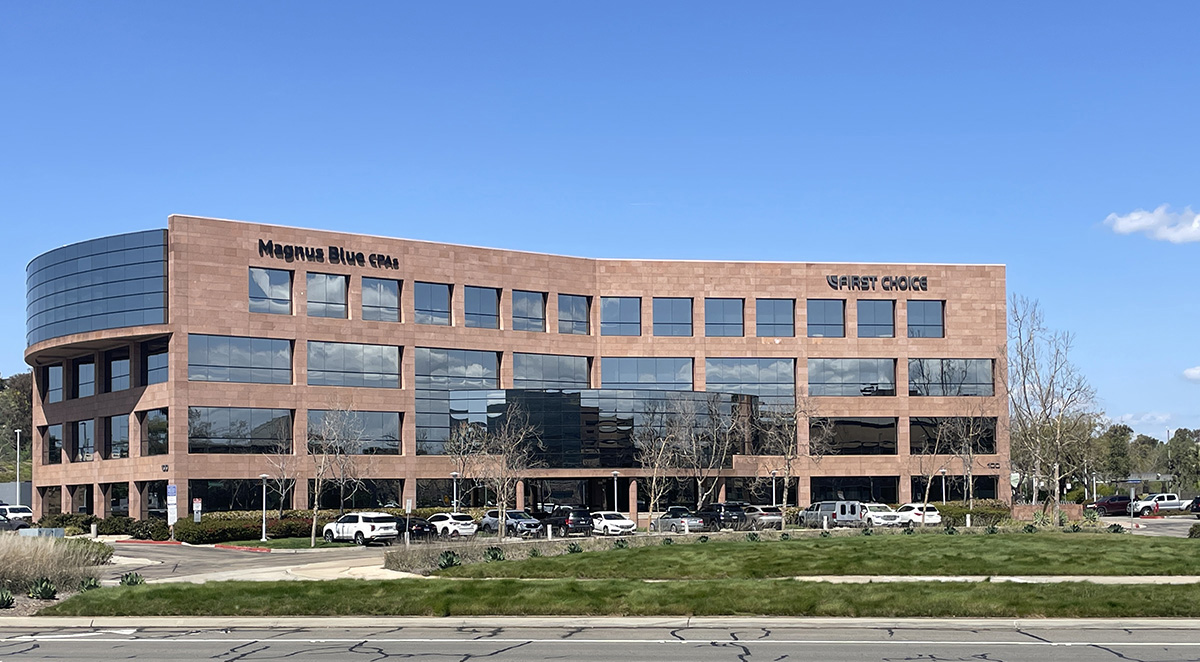 San Marcos
San Marcos
Our San Marcos clinic is a 3035 square foot state-of-the-art functional physical therapy facility. At Longevity San Marcos, we practice Applied Functional Science.
Facility Information

Longevity has truly saved my life. I started working with Brett the year Longevity opened! He has brought me back from numerous injuries, always stronger than before. I have been competitive in long distance running, triathlons, and outrigger canoe racing. As a senior, Longevity has allowed me to keep up with the youngsters! Thank you for pushing me and encouraging me. -Terri F.
Applied Functional Science
At Longevity Physical Therapy we practice Applied Functional Science, wherein we use our training in functional biomechanics to assess and treat what is the root cause of your pain and dysfunction. By using the scientifically-based Principles, Strategies, and Techniques of Applied Functional Science, each client is evaluated and given an evidence-based, individualized physical therapy treatment program based on their specific needs. All of our physical therapists practice the principals of Applied Functional Science. At Longevity Physical Therapy we want you to rethink what physical therapy is all about.
Rethink what your long-term physical therapy goals should be.

At Longevity Physical Therapy, in addition to treating your symptoms, we assess what the underlying cause of your pain and dysfunction is, and we treat that cause, ensuring that the problem doesn't return at a later date. Our long-term goal for our clients is to remove the pain and dysfunction and then teach the client how to continue their program at home.

Rethink what your physical therapy program should look like.

At Longevity Physical Therapy, we believe your physical therapy program should closely resemble what your daily life tasks look like. Because you don't live your life on a weight machine, you won't find any weight machines at Longevity. Because most people's pain or dysfunction occurs when they are either sitting or standing, you won't see many clients doing exercises lying down at Longevity. We feel it is best if our clients simulate real life as often as possible.

Rethink what to expect during your physical therapy experience.

At Longevity Physical Therapy, we stress customer service and personalized care. From the moment you call to make your first appointment, to the time your course of physical therapy ends, we want you to feel as though you are part of our family and are treated with the utmost attention, respect, and concern. At each appointment, you can expect one-on-one attention from your physical therapist throughout your entire appointment.

Rethink the importance of soft tissue flexibility and joint mobility.

At Longevity Physical Therapy, we spend a great deal of time working on a client's flexibility and mobility. We believe biomechanically sound movement and function requires adequate soft tissue flexibility and joint mobility. All of our clients spend a great deal of time on the TrueStretch (www.grayinstitute.com), improving their mobility and flexibility.

Rethink what your strength training program should look like.

At Longevity Physical Therapy, nearly all of our strength training exercises are gravity-based involving multiple joints and are performed in three planes of motion through the full, available range of motion. Mobility and strength are stressed in each exercise.
One of our specialties lies in vestibular rehabilitation, balance training and fall prevention.
We work to retrain your body's ability to communicate between the muscles and nervous system at a more optimal level, using personalized rehabilitation programs and advanced equipment such as the Alter G Treadmill and True Stretch.
We utilize the AlterG treadmill to provide a fall-safe, controlled
environment to support motor learning and enable functional activity.
What our patients have to say
Kayleen Huang
★★★★★
Great staff! Everyone is super friendly and supportive. Alexa helped me recover tremendously from a meniscus tear. She is very helpful and knowledgeable.
Larry Goldberg
★★★★★
For over 15 years I have had pain in my knees that made it difficult to hike and descend stairs. Over that time, I had lots of physical therapy with limited success. Facing a knee replacement, I decided to give physical therapy one last chance. In September my orthopedic surgeon recommended Longevity Physical Therapy where I was assigned Brandon Tran. Brandon quickly diagnosed the cause of my problem -- tight muscles in the thigh and hips. Over two months, he gave me targeted, progressive, effective, exercises that improved my range of motion, strength, and balance. I can now hike and do steps without pain! He also gave me maintenance exercises to preserve the progress. He set back the clock 15 years! Thank you, Brandon. I highly recommend Longevity Physical Therapy.
Donna Deese
★★★★★
Joseph Barron
★★★★★
Shout out to Brandon Tran who has gone above and beyond to help me with my knee after ACL reconstruction surgery. Keep up the good work!
Eli Griffith
★★★★★
Both Ally and Alexa were very important for my recovery. Every appointment I was pushed to the perfect amount, while still leading me towards a full recovery.
JOANNE SCEARCE
★★★★★
After working with 2 other PT companies for the same problem, I feel Longevity Physical Therapy, has been my charm! I contribute this mainly to Rachel Berman, PT, DPT whose ability to tune in exactly to my ankle's issues has been incredible. Rachel seems to have not only the kinesiology knowledge, but the common sense lacking these days. Wow, that speaks volumes.Rachel Berman is kind and encouraging; (never a "put down" which I have certainly experienced) yet, unbelievably capable of finding "just enough" of the correct treatment that I have seen positive changes since working with her. In less than 2 months Rachel has helped me see progress which after 3 and a half years I thought was hopeless!While I realize she can't fix my ankle, she seems to find just the right combination of treatment and changes it "just enough and gradually." Rachel doesn't push you ridiculously, leaving you in pain etc as too many, especially younger PTs I've not only witnessed personally, but heard these same complaints from many: especially older people!Longevity has top of the line equipment which also makes the difference. At the end of the session they utilize a compression icing system while other companies give you the same ice pack or cheaper than the therapy packs you keep in your home freezer. It matters and perhaps truly aids in healing after treatment.I have already suggested Longevity to others and I will continue to. Ironically, while being not so very old, Rachel Berman has the wisdom of one much older and is truly one jewel of a Physical Therapist!I am sincerely grateful for her!
Dawn Miller
★★★★★
Tori was a great physical therapist to work with. She is knowledgeable and professional. Tori is a good listener and creative when coming up with specific exercises. She was very nice and I would request her if I need future services.
Pat Boyle
★★★★★
Written by Roberta Boyle (patient):Eric Schulte deserves more than a 5 star rating !! I first saw Eric in February of 2022 for a rotator cuff issue. Eric was outstanding in diagnosing the primary and secondary impairments which most likely contributed to the increased demand on my rotator cuff. He provided me with a hard copy of his "Initial Exam" and "Plan of Care" which fully explained to me what we were dealing with and what we were going to do to treat it. I wanted to stay with Eric, but his facility was quite a distance from my house.So I checked out 2 other facilities just minutes from my house. Neither of these facilities could even come close to providing the excellence and dedication that Eric and Longevity could. This is because Longevity allows their Physical Therapists to spend an entire 40 uninterrupted minutes with each patient.Longevity employs many highly qualified PTs which are able to design the program to the patient. Other facilities just run patients thru a "one size fits all" exercise protocol utilizing assistants - not PTs. Longevity provides their patients with email access to "their PT" so that if their patients have questions, they can communicate between appointments.Finally, one year later in February of 2023, I was back at Longevity with Eric Schulte following surgery on the rotator cuff. I am not exaggerating when I say that the surgery would not have produced such an outstanding result if not for Eric Schulte's expertise and dedication. A surgeon can only do what a surgeon does. The success of the surgery depends on the rehabilitation process that follows. My rehabilitation experience was top notch thanks to Eric and Longevity !!
Holly Cartwright
★★★★★
After a few failed attempts at Physical Therapy for my back pain at various locations in San Diego,I got a recommendation to give PT one more try. I was told to check out"Longevity Physical Therapy" at their Mission George San Diego location.It's turned out to be best thing I've done for my back problems these last few years!The Longevity facility employes many talented people, from the Check-in staff to the therapists.They are also a teaching facility for students working on their Dr of Physical Therapy.My therapist, Ally was able to do what no other therapist had been able to do.She taught me new ways to do simple tasks that were causing me back pain!When she finishes her internship she's going to be one of San Diego's finest therapist.Good job Longevity and best of luck Ally!
Debi Ahle
★★★★★
I began to work with Chad shortly after my Total Knee Replacement surgery. I have worked with several physical therapists over the years for various injuries, but never one as thorough as Chad. From the beginning, he has guided me to setting goals for my recovery, strength and mobility and reevaluated with me at each visit. He explains things thoroughly and helps me to see the big picture. Chad is very encouraging and also helps me to see the small goals met along the way to full recovery. One of the greatest strengths of Longevity is that the entire visit is spent directly with the PT. Also, their facility is very open-air. I highly recommend Chad and Longevity!
marge Dee
★★★★★
Physical Therapists—JP & Brandon have been the most helpful, kind, professional and caring team in dealing with my back problems that you would want to have! They even are so supportive in making visual reminder sheets to take home & utilize so you can continue these exercises! So handy & useful! Can't thank you both enough! They also have great admin helpers (Corrie and Christine) to setup your appointments & assist with insurance & payments!! Longevity's the BEST!!! Thank you all for your help!! 😊
Oscar M
★★★★★
Nick is an awesome physical therapist. We began with a very thorough evaluation to diagnose the pain mechanism in my lower back. Every week since then, we've been progressing through various exercises, and Nick has been meticulously guiding me the whole way through. I can't recommend him enough!
Jacob Byerline
★★★★★
I had a great experience with Longevity PT. The people are nice and consistent. They care about their patients and go the extra mile to make sure that they're making a plan that suits your needs. Casey was very thorough and kind. I would definitely recommend this place!
Jenny Perillo
★★★★★
Jimmy at Longevity is an incredible PT and was able to help me find relief and healing so much more quickly than I could've dreamed of. Jimmy not only helped me find an answer to the specific issue I was dealing with but helped me learn lifestyle changes to implement for continued recovery. Jimmy is knowledgeable, effective, a great listener, and capable.
Pamela Smith
★★★★★
This is a great place for physical therapy. My therapist, Alexa, is extremely knowledgeable regarding my condition. She explained it to me in terms I could understand and came up with a great plan to help me restore function and get back to the activities I love. I also appreciated how easy it was to schedule appointments that worked for my schedule. And the cost of each appointment was very clear right from the first appointment so there were no surprise costs/bills. I am very impressed with Longevity!
Kyle Gooze
★★★★★
Fixed me right up ! Highly recommend this place
Joe colmie
★★★★★
I was taken good care of by knowledgeable, friendly and very capable people. Very pleased with the treatments I received.
Liong Lie Penfield
★★★★★
I have been seeing Brandon Tran for my feet pain and numbness and he has been fantastic!Brandon is a great listener and was able to understand my issue right away and knew exactly what he needed to do.He has a great personality and temperament.He clearly explains the issue and what needs to be done. He is very encouraging and positive yet pushes me to do my best at therapy and my home exercises. Brandon has been very effective and I have shown great improvement and is a definite asset to Longevity's team!X
Cheryl Sproles
★★★★★
My D.P.T. is Jimmy & he's "simply the best" . He has a positive attitude, lots of enthusiasm and patience which has helped me feel more at ease and confident.
Kingsley Frank
★★★★★
Jimmy did an amazing job with the physical therapy for my ankle and helped me answer all of my questions with practical ease. They know what they're talking about and are absolutely able to help with anything. Best PT experience I've had.
Iraj Ekhlassi
★★★★★
I can write a book here! I had pain for years and tried 5 different facilities till I found this jewel. If they can't fix you nobody else can. Facility is gorgeous, staff are all top notch, very professional and friendly, and honestly care to get you going again.
Garnet Tomich
★★★★★
I've had pain in my rotator cuff for the past 6 months. After 16 physical therapy visits, the pain is totally gone and my arm/neck/shoulder feel so much stronger. My therapist Jimmy Vu is awesome. He really knows his profession and has excellent interpersonal skills. I really enjoyed working with him. I would highly recommend him.
Chris Lundy
★★★★★
I have been attending sessions at the LPT facility on Mission Gorge. while I have had the most contact with Katie and Alyssa, everyone has been very kind, very friendly and very helpful. I would recommend this facility to anyone.
AJ Veitch
★★★★★
After having a total hip replacement, I have spent a month and a half in PT with Brandon at Longevity. Last week I played golf and one of my partners that I have played with for many years said "Your swing today is the best it has been for years." I credit that to Brandon for helping with my mobility and flexibility. I highly recommend Longevity and Brandon if you need help regaining your active life.. AJ Veitch
AJ Veitch
★★★★★
After having a total hip replacement, I have spent a month and a half in PT with Brandon at Longevity. Last week I played golf and one of my partners that I have played with for many years said "Your swing today is the best it has been for years." I credit that to Brandon for helping with my mobility and flexibility. I highly recommend Longevity and Brandon if you need help regaining your active life.. AJ Veitch
Anne-Marie
★★★★★
The therapists at this facility are very friendly and helpful. My neck problems were solved in just a few sessions and I am very happy with my experience at Longevity.
Jose
★★★★★
I have enjoyed going to Longevity PT at their mission valley location. The staff up front are always welcoming and helpful. I've been working with Jimmy, my PT, for a little over a month now do to some shoulder pain. I have appreciated the care he takes to understand my injury and help work through a program that would get me to reach my goals of getting back into the gym without further injury. Also helps that he makes the sessions fun and engaging! Definitely recommend!
iris chan
★★★★★
PT Chad hands down is one of the best in Carlsbad. I would recommend PT at this location.
Cindy Snow
★★★★★
Highly skilled PT's, and you get their FULL attention during your session. I'm 70 yrs old, dealing with an arthritic shoulder, and I have been impressed (and grateful) at the pace of progress. Also, even though the Mission Valley Clinic is pretty busy, i never feel crowded - they manage the space well. Highly recommended
Andrew Darr
★★★★★
Great experience! Great people!
Maria Willcox Morales
★★★★★
Me gustaría compartir este feedback o retroalimentación en Español, para decir que llegue a este lugar por que me quedaba muy cerca de casa. No tuve nadie que me lo recomendara y valla sorpresa. 1ero. El lugar cuenta con una instalación grande, bien ambientada con muchos aparatos y ventilada. 2o. Tuve y tego aún la fortuna de haber encontrado un Fisioterapeuta espectacular, Tifis en general son profesionales de sobra y con un sentido común al entender el dolor de nosotros los pacientes:su nombre es JP Juan Pablo. Además que el habla español y pudo comprender mis complicaciones Perfecto. Hoy llevo casi 12 secciones en aprox 1y medio meses y estoy mucho mejor. Al llegar yo era candidata a cirujia de plantar Fasitis y ahorita estoy sin dolor y caminando ya cadi sin la bota ortopédica mejor. Porfavor no dudes en buscar este sitio te lo recomendó mucho. Marycarmen
Donn Lipera
★★★★★
Longevity is a well run cutting edge Physical Therapy practice employing the most advanced machines, such as the Anti-gravity treadmill. But by far the place where they really shine is their staff. The front desk people are friendly and helpful and have great patience. I am quite lucky to have been assigned to Alyssa McClintick, she is very professional, kind and I can tell she is very passionate about being a Dr. of Physical Therapy. Her understanding of PT is amazing and her ability to communicate the concepts of what the goals of my treatment plan are and how they will improve my vertigo is expertly explained to me! I know I'm in the right place and I feel safe under the guidance of Alyssa.
Jill Easton
★★★★★
I was doing physical therapy through a different company and told my physician that I wanted to switch to Longevity Bressi Ranch. I had such a wonderful experience with Longevity in their previous Carlsbad location several years ago, I knew that Longevity offered the level of supervision, scientific thinking and willingness to keep tailoring my plan which I needed. I switched to Longevity Bressi Ranch, have been teamed up with JP Murcia as my physical therapist, and it was the absolutely right decision. Even my physician agrees.Unlike some PT experiences I've had with other providers, JP and Longevity allow me to work with the same senior physical therapist without being handed off to assistants for assessment or supervision. I'm fine with a PT aide monitoring me as I'm doing a particular exercise, but I like the more seasoned physical therapist to decide the big picture of my treatment and really get to know me. JP always takes time for me to give feedback on how I did between visits, what issues/areas of the body I feel still need work, and then tailors and tweaks the regimen to keep me progressing while feeling more comfortable. He does thorough reassessments periodically so that he, I and insurance know quantitatively how much I've improved.The Longevity front desk staff is so professional, friendly and helpful. I appreciate the email appointment reminders, print-outs of upcoming appointments if desired, and discussions of the status of my insurance approval. You'd think this would be standard practice for all physical therapy facilities, but it often is not. The Bressi Ranch facility is well-organized, cheerful, contemporary and provides a very pleasant environment.
Paul Radoiu
★★★★★
Incredible staff at Longevity. Jimmy has been amazing to work with on my knee recovery post surgery and I am seeing improvements weekly.
Howard Krausz
★★★★★
I was very pleased with the young PTs that expertly diagnosed and explained my troubles. The stretches and exercises worked well. Brandon went beyond the original issue to help with another painful problem area also. He taught me enough to keep improving on my own so that I can resume Yoga, wing foiling and snow skiing without relapsing.
Joe Kirby
★★★★★
In the 10 years following an auto vs truck collision, I have seen several different physical therapists at recuperation centers and local offices. Longevity is my choice for the best in the area. The front office is cheerful, the workout space is clean with modern equipment, and the Therapists work full time with the clients. They do not hand you off to a junior assistant. In my experience, Chad has provided leg strength and balance improvements that allow me to almost double my workout duration.
James Traynor
★★★★★
JP is awesome! Got me back on track.
Jo Elsner
★★★★★
I totally give this PT facility a 10+. Eric is the best. I have had 2 sessions with him and have gotten more positive results than in the 8-9 months at the other facility I was going to. This facility is very professional and well educated in what they do. If you're looking for physical therapy please give them a try you won't be disappointed.
Steve Hyndman
★★★★★
I have been working with Kevin Greer over at Longevity and I could be happier with the results. Kevin is incredibly knowledgeable. I am a golfer and with bad hips. He was able to help with my range of motion and strengthening my hips. All was helpful for my golf swing and has improved my game. Thanks Kevin.
Steve Block
★★★★★
So far so good
Holly Carroll
★★★★★
I'm 67 years old coming back from a broken femur. I've been to a couple of other companies and was dissatisfied with both. At Longevity I get personal attention and everyone has been great. Nice and very knowledgeable people, I highly recommend Longevity.It's been almost a year that I've been coming here for two days a week, can't say enough good things about Casey. My strength has improved quite a bit. My stability has improved when I first came here. I had to use a stationary walker right now can use a cane And I can climb a flight of stairs. I love this place!
Mo O
★★★★★
Fantastic people as facility.I had the pleasure of working with most of the PT and each one was fantastic in their own way.Thank you all so much for helping me three months after my bilateral total knee replacement 🤓👍🏼
Shawn Cook
★★★★★
Jimmy, one of the PTs at Longevity, has helped me with a few issues and he's amazing! I love Longevity and Jimmy! He has helped me through some tough injuries and got me going 100% I'm just a few weeks.
Liong Lie Penfield
★★★★★
I have been working with Brandon for several weeks now and he has been nothing but amazing!From the very first visit, Brandon has been a great listener and exudes confidence in being able to help me and spot the issues, and what needs to be done. He not only has a wonderful personality but is also very good at providing compliments and encouragement and challenges me to appropriately push myself to my limits so that I can and do progress.Brandon is a fantastic physical therapist in all aspects, and I look forward and enjoy my sessions with him!
K Cook
★★★★★
I recently received physical therapy for about 2 months for knee replacement at Longevity - Bressi Ranch. I highly recommend Longevity and in particular JP Murcia who took me from barely walking to normal movement. He is knowledgeable, professional, encouraging, kind, and I thank him for all he did to get me back to an active life.
Nirmala
★★★★★
I cannot speak highly enough about my experience at Longevity Physical Therapy, particularly with Physical Therapist JP. From the moment I walked through the doors, I was met with a warm and welcoming atmosphere that immediately put me at ease. JP's professionalism, knowledge, and genuine dedication to his patients' well-being are unparalleled.JP's expertise and personalized approach to my daughter's therapy were instrumental in her recovery journey. He took the time to assess her condition thoroughly, attentively listened to my concerns, and crafted a tailored treatment plan that suited her needs perfectly.
Claudia Cunningham
★★★★★
My PT Jimmy is the best! He's engaging and pushes me to generate the best results post surgery.
Bruce Langdon
★★★★★
Chad has been terrific. He has been able to help me make progress each week with the stretches and exercises. He explained the MRI terminology results in a way i can understand and how the PT treatment plan would address the diagnosis. This gave me the confidence i needed to keep working on the recovery. While not a quick fix, i now believe that i will return to full use of my shoulder. y
John Blasi
★★★★★
Excellent in every way. Kevin really helped me get back to playing golf 4-5x per week after having upper and lower back injuries. He is great at assessing and treating golf related injuries with physical therapy and targeted exercises for homework. He understands the golf swing and guided my recovery using that expertise. Thank you Kevin!
Pablo O'Brien
★★★★★
I've been working with Jimmy to increase strength and balance. The results have been fantastic! My golf game is much better with his help!
Jeff Junio
★★★★★
JP at Longevity is the man! He's been soo instrumental in getting me to work through my knee and foot issues. He's very knowledgeable and quick to respond to my feedback and put in effective exercises and action plans. Longevity itself is a top notch facility. Clean and filled with all the equipment you need, and a friendly staff. I can't recommend them enough, and if you are looking for a physical therapist, JP is the best so get him if you can! Thank you JP and Longevity!
Laura McKenery
★★★★★
Everything about this facility is great! From the receptionist, Laura, to my PT, Kevin…top notch. Everyone is also extremely friendly and knowledgeable.
Member Manager
★★★★★
Staff is great
Susan Mcquillen
★★★★★
I worked with Jimmy Vu. He had challenging task of treating me for a balance/walking issue while I had a concurrent foot wound and was prescribed no weight bearing - not the best scenario for a walking problem. Jimmy was very creative crafting my treatment regimen to accommodate both problems. Walking and balance have both improved, while allowing foot wound to heal. I feel very fortunate to have been assigned to a therapist who is so knowledgeable as well as creative.
Ann Gnb
★★★★★
I came to Longevity Physical Therapy for help with a knee injury. The scheduling process has been easy, the facilities are nice and welcoming and the PTs are fantastic! I worked with Chad and JP, they were both great at listening and diagnosing the issues I had and provided custom workout plans. They have both been very attentive and supportive and I have full confidence that I am getting all the right help I need for a speedy recovery.
Jim Davey
★★★★★
Clean, Friendly and good Parking!
SJ
★★★★★
I have been a patient at Longevity PT in Bressi Ranch for the past few months while I recover from a pelvic fracture. The facility is well managed, clean and modern, and I was immediately comfortable once I stepped foot inside. I have had the privilege of working with Tori during my recovery. She has been amazing! I can't believe the progress I have made in such a short amount of time and I owe it all to her. Her expertise, personalized treatment plan, compassion, clear communication, and motivation is truly exceptional. She possesses extensive knowledge of my condition and has created a plan that considers my unique needs and goals. Some days I feel better than others, and she is able to tailor each session to fit my specific needs. Her support has made a huge impact on my recovery and I am immensely grateful for her. I highly recommend Tori to anyone seeking a skilled, kind and caring physical therapist.
Taylor Henschel
★★★★★
I've found that finding a good physical therapist can be a lot like dating. You tend to go through a couple PTs before you find the one that not only understands your injury, but connects with you. 2.5 years after injuring my achilles, I finally met Alexa, who I've been seeing the better part of a year now at Longevity (I did also have a good experience working with Alyssa briefly).In the time I've been seeing Alexa, I've gone from running barely 3 painful miles, to hitting my goal of getting back to half marathon distance runs. It's the most success I've ever experienced working with a PT and I attribute it to Alexa's deep, science-based, understanding of the subject matter, her methodical approach, and importantly, her ability to get into the psychology of injury trauma and recovery. When we've had the inevitable setbacks, she's talked me off the cliff and critically, helped me keep moving forward (which has been huge given how important running is to me).I really can't recommend Alexa enough, especially for those dealing through similarly chronic, long-recovery-road-type, injuries 🙌
Bowman Bagley
★★★★★
Best place to go for physical therapy. Amazing staff, clean facility and great functional plans to get you back on track.
Savannah Ng
★★★★★
I initially came in for knee pain that has been going on for over a year, and no success at a different PT office. However, when other issues came up, Jimmy was able to modify our sessions and helped my other injuries immensely. My knee pain has been completely resolved, and I've been able to go back to all the activities I enjoy!
John Anderson
★★★★★
John and Marie had the pleasure to meet and work with Eric several years ago for issues of balance, age and knees. Now he is helping me with problems due to Parkinson's disease and John because of a fall. Eric always greets us with a big smile. He is very patient, easy to talk to, and has a great knowledge of how to help treat our problems. He tries to vary the exercises as much as possible. He is a great therapist, always in a good mood. He sends us home with pictures to help us do our exercises at home. We recommend him higly to anyone needing physical therapy.
Barbara QuinteroOBrien
★★★★★
Jimmy is the best!!!Not only is he professional, knowledgeable, and amazing at what he does but i feel his intuition is spot on.I was very apprehensive about physical therapy (I have not had great results in the past.) Jimmy has helped me regain trust in my body's ability to get stronger and I feel we are making big improvements in my areas of concern (lumbar spine and hips.)He has a deliberate plan of action and when needed he is always able to come up with alternate ways to get to the desired goal.I am ever thankful that I found him.As far as Longevity PT goes, the staff is friendly, there is plenty of parking, the interior is clean and spacious and never feels too crowded.Best physical therapy experience!
Sebastian Cifuentes
★★★★★
Jimmy has been my physical therapist for the last two months, and my satisfaction with the care and expertise he provides is excellent. He holds me accountable while attentively listening to my feedback about my recovery process. His exceptional listening skills, non-judgmental attitude, and significant focus on the most minor details in our exercises and workouts are contributing immensely to my recovery.When I first met Jimmy, I had consistent pain in my surgically repaired knee. However, in the last two months under his care, the only pain I experienced upon leaving each physical therapy session was the manageable soreness from our straightforward yet effective workouts.Regarding my surgery, I suffer from what is medically termed the "unhappy triad," which makes my recovery journey a bit challenging. After an extensive conversation with my orthopedic surgeon, we agreed on a necessary change in my physical therapy dynamic, and she recommended Longevity as the group that would help me reach the next level in my recovery. Two months ago, the thought of playing basketball again would have been a definite no. With each passing week, my confidence grows under Jimmy's guidance. I trust Jimmy's tailored workouts and hope to dust off my old sneakers soon.Half the battle with my injury is overcoming the mental obstacles, and Jimmy excels in providing the emotional support needed. His emotional intelligence and exceptional bedside manner are the qualities of an extraordinary physical therapist.I recommend Jimmy to anyone needing a dedicated and empathetic physical therapist.
marsha flanagan
★★★★★
Linda Schicker
★★★★★
Alyssa does a great job! She listens, understands, is very patient, and knowledgable.
Ellen Ehlers
★★★★★
I'm a 74 year old woman, very active (4+ mile daily beach walks, gym work (rowing machine + weights), Pilates, etc). Although I have severe osteoarthritis and scoliosis (multiple surgeries and joint replacements) my therapy goals are to maintain my exercise/fitness routines. Casey Waller has worked with me to develop a therapy routine for IT band syndrome that I can maintain at home, along with weekly clinic visits. What I've most appreciated about Casey is that as my therapy evolved he adjusted my PT to my specific issues. It's been a team effort which is so appreciated!
Maria Keyton
★★★★★
My therapist his name is Jimmy at Longevity has done wonders for my range of motion he listened to me put it together a plan and helped me improve better than any other rehab that I've been to I have a lot more range and I can go longer before having to have surgery and I would do it again and I appreciate the kindness and the care that I received
Maureen Pierre
★★★★★
LONGEVITY IS THE VERY BEST, UP TO DATE PHYSICAL THERAPY OFFERED IN NORTH COUNTY!!I have been in and out of physical therapy here for years, mostly rehabbing after a bone surgery (my 'jock' souvenirs for skiing, basketball, hiking mountains). All the pt businesses have been adequate but LONGEVITY is so superior. I am working with a therapist one on one for my entire session- this is how they all work with you. They are really THERE WITH you, actually helping you to recover muscle strength and stamina. I work hard as does my therapist. He knows his stuff and I am so thankful for this PT- it is top notch.
Jody Catlin
★★★★★
Alexa Hadinoto, my physical therapist has given me hope for dealing with my osteoarthritis. Her individually styled exercises for me are helping me to improve my strength and flexibility. With Alexa, I feel cared for as a patient and as a person. For sure, five stars for Alexa!
Harriet Kounaves
★★★★★
Jeremy McDougald
★★★★★
Nick is amazing.. I was struggling with a simple minescus tear, but I finally decided to give Longevity a try.. After a month he worked all my muscles around my knee and I was up and running after 5 sessions.. Nick I'd Awesome and a great guy
Robin Charest
★★★★★
Jimmy Vu is great! He has been working with me to strengthen my left hip, to help with a torn labrum, and I can honestly say what a huge help it has been. I definitely notice an improvement and now I have less pain. Thanks Jimmy!
katherine huang
★★★★★
Been to 3 physical therapy places for low back pain and sciatica and Longevity is by far the best—Tanner, Kevin, and Rachel were all super cool and helped not only with my back pain, but also to start lifting again. Highly recommend!
Jay Sill
★★★★★
This is a great group of dedicated physical therapists. The facility itself is excellent. Rachel Berman has been a huge part of my success in fully recovering after meniscus repair surgery. I would highly recommend her and this group!
David Burke
★★★★★
Jimmy did a great job bringing me back to "normal". I herniated 2 discs in my back and was barely able to walk. 5 weeks later I'm back to the gym. Thanks Jimmy!
Bonnie Lear
★★★★★
I started P/T at this location about a month ago. I appreciate my physical therapist's knowledge and exercises post a total knee replacement. I appreciate that I can view on-line all my exercises and to see videos of how to do them after my therapy sessions. I would highly recommend Jolene and this facility!
Carlos Franco
★★★★★
Nick Van Horn has been amazing !! I went in with vertigo and left completely healed and 10 lbs lighter.! Over a years span Nick created a steady routine of exercises for me, walked me through what I was dealing with, cheered me along through a few setbacks. My experience with longevity has been nothing but wonderful from how easy the location is to how nice the staff are!
Beth and Ross Stephens
★★★★★
I have been struggling with a shoulder and arm injury for several months. I was seeing another physical therapist with very little improvement. I began seeing Brandon two weeks ago, and already am seeing great improvements in my mobility, strength, and level of pain. He listens well and brings superior knowledge and skill to healing and strengthening the muscles through manipulation and targeted exercises. I'm beginning to feel that I will once again be able to participate in all of the activities I enjoy!
Edward Philbrick
★★★★★
Exceptional service and experience for patients.
Robert Kreisberg
★★★★★
Excellent facility, clean, well equipped, but most important, terrific PT Therapists and support staff. Shout out to Chad, Kristen, and Casey.
Virginia Wilhelm
★★★★★
Jimmy Vu has been treating me for the past four months; with excellent results! He is a wonderful physical therapist, who cares about me as a whole! He has set goals for me, and has helped me to become stronger. He is just a stellar human being!
Barb Endicott
★★★★★
I have gone to Longevity PT's several times for different reasons and have had great results. I'm currently working with Brandon and he is great with knowing what is best for me to do. He has a lot of natural talent in knowing how to deal with my issues. He is very friendly and knowledgeable about his work.I look forward to my sessions with him.
Aleksei Stojanovic
★★★★★
Awesome PT! JP IS THE BEST
Dick Miller
★★★★★
These guys are awesome! I'm so glad my MD referred me to them! He had said his patients have had good experiences with them and good results. From the very beginning Laura made it easy to schedule appointments and deal with insurance, etc. Therapists Kevin and Meghan worked closely together to provide seamless care throughout my successful 2 month rehab. And more than being great professionals they are really good people to be around … personable, encouraging, and always supportive during the inevitable challenges of rehab!
Mike Jenks
★★★★★
After total knee replacement I was so happy to have done my physical therapy at Longevity La Costa. I worked with Rachel the whole time and she worked miracles. Highly recommend Longevity and the entire team.
Eileen Markana
★★★★★
I have been going to longevity on Loker Ave in Carlsbad for about 5 weeks. I honestly can't believe that I have made so much progress in such a short time. I have to credit Longevity and my physical therapist, JP Murcia. He is phenomenal. I have quite a few issues: I'm rehabbing from a very major back surgery, and I had to walk with a cane when I first got there because my knees were so weak and painful. JP has gotten me to the point where I'm no longer using the cane, I'm able to get on the treadmill and I feel confident in my body again. JP is very encouraging and kind, yet he makes sure to challenge me so that I continue to make progress without injuring myself. I highly recommend both longevity and JP. The receptionist staff are also wonderful, especially Christine.
Mark Miller
★★★★★
So many great things to say about Longevity! The staff is incredible. I was able to work with 3 different PT's who all were knowledgeable and shared in my passion to have a full recovery. My shoulder is healed. Thank you Longevity and especially Tori!
Jack Zaner
★★★★★
Great service. Therapists are knowledgeable and eager to help.Equipment and facility first rate.
Cindi G
★★★★★
Very clean state of the art physical therapy office. Eric provided me with an effective home routine to strengthen and improve knee mobility to combat osteoarthritis. Thanks to Longevity PT, I'm still able to hike and maintain an active lifestyle. Highly recommend this office and it's friendly and professional staff.
Greg Cummings
★★★★★
Awesome experience. Chad is the best. The PT's at this facility truly listen to your experience and are very good at what they do. Will recommend to anyone recovering from an injury. Thank you Longevity!
Jody Saltzman
★★★★★
Eric is the best PT I've ever worked with...and I've worked with MANY of them. He really listens, tailors the exercises to the individual, and even does great manual releases. THANK YOU, Eric!!
Debra Karp
★★★★★
A great place for PT. Casey is awesome and has helped me get back up on the treadmill. The front desk women are super nice.The clinic is spacious and clean. Easy parking also. Ask for Casey, super knowledgeable and has restorative powers.
Zoilan Bondoc
★★★★★
Shoutout to Jimmy Vu, service was excellent and his depth of knowledge exceptional. Immediately brought me relief from the knee issues I've been having.
Pam S
★★★★★
I have worked with Kristen Lopez, DPT, throughout my lengthy, challenging rehab from total knee replacement. I could not imagine having a more knowledgeable, compassionate, and effective guide. The Longevity treatment model, which has the patient working with the physical therapist for the entire visit, is superior. Kristen is witty and fun; she excels at hands-on manipulation and assessed my form during every exercise. Her laser focus kept me motivated to do my best and ensured that my efforts were beneficial. Kristen (and Longevity) will be my lifelong resource.
Michael Fuzie
★★★★★
I worked with Jimmy to rehab my right shoulder. He did an amazing job and I was able to get back to full range of motion with no pain in less than two months! He was extremely knowledgeable and professional. I had a great experience at longevity physical therapy.
Neil and Gail Winner
★★★★★
I was treated by Alyssa M. at Longevity PT for arthritis pain and limited range of motion in my shoulder. The help, care, and wonderful physical therapy I received from Alyssa made a tremendous improvement in the range of activities I can participate in and in the quality of life I can enjoy. My shoulder's range of movement is much increased and the pain is largely absent. Alyssa's extensive physical therapy knowledge, professionalism, and skill has made all the difference. Her enjoyment of her chosen profession and of helping people comes shining through in all that she does. Alyssa is the the best!!!Neil W.
Jimmy
★★★★★
I have been a physical therapy patient at Longevity during re-training for two major knee replacements (left, and right) over the course of a year. Having had very successful surgery by USN Medical Doctor, Commander Barlow, I needed re habilitation. TriCare received my request for Longevity and granted this provider permission to engage me for both re training PTs (August 3022 right knee, March 3023 for left). Even while making steady progress with in office and at gym exercises, after my second surgery I required more visits from TriCare to get me correctly walking and bending. The office visits are frankly painful but I am sticking with the program because my improvement is very apparent and worth the discomfort. ::: I am extremely pleased with Longevity. The physical therapists are obviously very concerned with patient progress and physical improvement. ::: My particular therapist is Dr A. Hadinoto. She has been consistently pushing me to new levels of improvement in my care. I am so thankful for her expertise and dedication to duty. ::: The staff at Longevity are most worthy of your consideration Jimmy Hansen (Talmadge, San Diego)
Rod Frank
★★★★☆
What can I say? Alexa put a smile on my face. I received excellent physical therapy here. Anyone who is lucky enough to get Alexa will not be disappointed. Why 4 stars and not 5? I found this place to be a lot too pushy about getting reviews. The numerous emails (including one after only my first session) always suggested ⭐️⭐️⭐️⭐️⭐️ No place is that perfect and even Alexa couldn't save my overall experience.
S N
★★★★★
I will highly recommend Longevity at Mission Gorge; Nick Van Hoorn helped me greatly my with shoulder and knee issues.The whole staff was efficient and well organized.
Sue Pellerito
★★★★★
Longevity was recommended to me by my in-home Occupational Therapist following total knee replacement. The facility is clean, the front staff/scheduling is outstanding and the Physical Therapists are all great. I especially enjoyed working with Chad who really listened to my needs and helped me progress. Following my release, Chad created a nice folder for me with planned exercises suited towards improvement in the areas I still needed work. Job well done Longevity!
Jill Angeles
★★★★★
Came in for back pain which was relieved quickly with the exercises and "homework" I was given. Great location and easy to get to! Clean facility! Great staff and therapist! Rachel was great!
Abdi Aden
★★★★★
I chose this physical therapy place based off their Google reviews so thought it was only right I leave one myself for anyone who might be seeking the same service.I badly injured my shoulders after a fall several years ago and never completed my initial rounds of PT so the problems crept back and I finally decided to do something about it. The difficult part was settling on a place. Like finding a good barber, it can be a tough process as there are a LOT of shops but it's hard finding the right one because results really matter and are incredibly personal.I ended up going with Longevity after reading a bunch of reviews to get an idea of their approach and how other patients felt about the treatment. Didn't hurt they had a location a ten minute drive from my home.I was paired with Jimmy and after just five sessions I'm already seeing great improvement in strength, range of motion, and a drastic lessening of pain and some arthritis that had built up in one of my shoulders. He converted the initial exam into a full blown session after his regular appointment cancelled and he maximized my gains throughout our treatments as my insurance didn't cover the service and I was paying out of pocket.He didn't just assign me exercises but constantly, and patiently, corrected my form to ensure I was doing them all exactly right to ensure I was gaining the most benefit from our time together. He also knew when to push and when to back off exercises that I wasn't ready for yet which I appreciate because, while I was willing, I could have hurt myself and so It was good to have a pro looking out for me.I'm writing this after our last session in the package I paid for with the plan being to continue the initial exercises on my own until I've reached a level where I can return for increased guidance. I definitely intend to return and would recommend Longevity to anyone in need of physical therapy although I wouldn't wish these types of injuries on anyone.
Jane Davies
★★★★★
I have worked with Rachel Oakley over the course of nine months on a variety of issues including skeletal muscular weakness, rehab after foot surgery and long standing balance issues. She has a broad understanding of these conditions and was able to provide a variety of exercises adapted to my needs. She helped organize a variety of activities that I can do at the gym. Rachel is very upbeat and encouraging. She communicates very clearly and is willing to go over the steps in an exercise so that it is understood. When asked to explain the why behind an ache or exercise, she clearly explains it. Rachel is bright, enthusiastic, patient, and empathetic. This was always a positive experience.
Chad McLain
★★★★★
Kind, conscientious, and knowledgeable staff who consistently listened to me and adapted to my goals. Big thanks to Kristen and Rachel for getting my confidence and strength back after three ACL surgeries. The bright and open space is icing on the cake!
Dave Smart
★★★★★
I saw Jimmy after a grade 3 pcl tear and grade 4 cartilage damage. He's provided the best physical therapy I've ever had. He's enjoyable to work with every time I go in. The facility is top notch and the business cares about their patients and employees. Even the front desk is great.
Gail Schneider
★★★★★
My personal experience is one of gratitude. My therapist, Alyssa gave me the finest treatment I could ever have imagined. Her prescription of exercises has resulted in the disappearance of my symptoms. Longevity should be proud that it employs such a fine practitioner as Alyssa. Again I am grateful to Longevity and Alyssa for their care and expertise. Dr. David Matlin
Alex Shester
★★★★★
I was referred for follow-up care, specifically to Longevity, by Ian Purcell, MD, who is the premier specialist in San Diego for vestibular (balance and dizziness) disorders. I didn't know there was specific physical therapy to help with it. I was fortunate to have Eric Schulte, at Longevity, show me eye and simple body movements to help my vestibular dysfunction. After 3 weeks, all my symptoms of imbalance resolved. I am particularly grateful for the expertise by Longevity and Eric Schulte, whose knowledge and professionalism are superior. Thank you.
Jared Richards
★★★★★
Knowledgeable and friendly staff. Very professional and clean facility.
Jason Lewis
★★★★★
I underwent ACL surgery in August of last year and embarked on a journey of recovery and rehabilitation. My orthopedic surgeon (Dr. Tal David) recommended Longevity for physical therapy who paired me up with Kevin Greer.Kevin's personalized approach to my recovery played a pivotal role in helping me regain strength, flexibility, and confidence. He carefully tailored each session to address my specific needs and goals, ensuring that my progress was steady and effective. His attention to detail and ability to adapt exercises to my changing abilities allowed me to gradually push my limits while minimizing the risk of setbacks.Thanks to the comprehensive and well-executed rehabilitation program at Longevity Physical Therapy, I am thrilled to share that I am well on my way to getting back on the soccer field.In conclusion, I highly recommend Longevity Physical Therapy to anyone seeking exceptional care for ACL surgery recovery or any other physical therapy needs. Their knowledgeable staff, personalized approach, and commitment to their patients' well-being are truly commendable. If you're looking for a place that combines expertise, compassion, and a supportive environment, Longevity Physical Therapy is the perfect choice.
Maureen Pierre
★★★★★
This PT place is very different, streamlined, on time, excellent therapists. Each problem is treated for a half hour with your person, and the treatments are specifically geared to your requirements. I have been in and out of physical therapy for 24 years and this frankly is the first time it has been so effective. Thank you to Longevity therapists.
Lyssa Dennis
★★★★★
All of the staff are so well trained in so many different kinds of exercises for a variety of issues. Most of all such personalized attention
Farah Sadrzadeh
★★★★★
Dick Miller
★★★★★
Trevor Miller
★★★★★
I have been going here for a few months now. Been making good progress, but it takes time to heal. Everyone I have interacted with here is very friendly, warm, and caring. I have mainly been working with Casey and he has been doing a great job listening to my symptoms and updating the exercises accordingly. He also explains the reasoning behind each symptom and why/how the exercises will help very well.
Max Reshik
★★★★★
I had a great experience working with Jimmy Wu on my jaw surgery recovery process. He did amazing job with my jaw opening and managed to make my opening from 16 mm to 40 mm. He was extremely polite and patient working with me. Highly recommended Jimmy and Longevity Physical Therapy for your post-op recovery.
Harish Rithish
★★★★★
Thanks Jimmy for your help! I had come to longevity physical therapy for weakness in my hip muscles. Jimmy was quick in diagnosing my issue and coming up with a strengthening exercise plan to bring me in shape for playing soccer.
Jimmy Phelan
★★★★★
I had an amazing result at Longevity's Therapy mostly with Eric Schulte. His knowledge and experience and positivity lead me to standing straighter and in less pain for the first time in months. Thanks so much. I will return when back in San Diego in a couple months. I will continue the book of stretches and exercises to help improve even further. Thanks again Eric.I also was fortunate to work some times with Joleen. Once again her experience and education standards gave me great results. She worked on my form and getting the right quality in the book of exercises I was given. Even the stretches surprised me in how much it helped. Thanks so much Joleen.
Barbara Stehr
★★★★★
I have Chad as my PT to help with neck and shoulder issues. He has been great at listening to my ailments and teaching me proper form and exercises that have made a difference with my headaches. Very knowledgeable and professional group of PTs as well as accommodating to my schedule.
thomas livick
★★★★★
Eric has provided exceptional expertise in finding solutions to problems that were left unanswered by my other doctors. He is very proactive and genuinely cares about the health of his patients. I did not have a lot of faith in PT before starting, but it has quickly become my most effective and fastest working tool to fight against debilitating migraines and a spine injury.
Joelle Rebmann
★★★★★
I have been seeing Kristen. We're probably over two months now. First off the facility is beautiful. I have been to the Bressi location as well as the new San Marcos location and both are very clean. Kept up very nice. All the equipment is new. Kristen is very easy to work with And has helped me tremendously with my lower back and hip issue. She is professional, yet makes me feel like she cares about me and my well-being. We had a goal of getting me back to being able to do yoga classes again. We do stretching and alignment and We also do a variety of strengthening exercises and then she gives me exercises to do at home as well. I am back to practicing yoga. I highly recommend Kristen and her staff.
Eloy Cortina
★★★★★
Keith Ankeney
★★★★★
Kevin and his team are the best!
Brad Purinton
★★★★★
Longevity is first rate. Professional atmosphere and plenty of exceptional therapists which means numerous appointment options. My care provider was Rachel Berman. For 6 months she helped me get back to 100% post surgery. She is excellent and has a tremendous heart for helping people. I consider her a friend. Thank you Rachel and Longevity!
Jacob Roberts
★★★★★
Greatest physical therapy and therapists in all of SD! As someone whose had 5 surgeries on the same knee and going to countless different physical therapies this has been the only one that I have found that always goes the extra mile for their clients. Most pt's the therapist has 2-3 clients at once never really getting a chance to focus solely on you. At longevity you get a full 1 on 1 experience for your whole visit and icing after your sessions as well as getting you massaged out prior to starting your workouts. Best of the best here!
Trina Zeljak
★★★★★
Patient to help determine the origin of the problem and the correct path to healing. Thank you!
S. Daniel
★★★★★
Longevity Physical Therapy is hands down the best PT office I've been to. The staff is caring and compassionate, and they really know their stuff. Eric Schulte is my PT, and I find him to be exceptional at his job. He listens, he's careful, intuitive, highly skilled, and a really nice guy too! I just turned 65, and after only four weeks of working with Eric, I feel better and stronger than I have in years. I highly recommend Longevity Physical Therapy for people of all ages.
John Reeser
★★★★★
I have a left shoulder issue and my doctor recommended Longevity Physical Therapy in Bressi Ranch. Eric Schulte, my therapist has done a remarkable job in diagnosing and applying proper exercise regimens to allow me to heal. I highly recommend Eric, his coworkers, and his company to anyone seeking professional physical therapy that yields results.
Jeff
★★★★★
Rachel, Megan and Ali were all AMAZING in helping my son Greyson recover from a fractured tibia injury. Not only did they put together a plan of great exercises to build his strength and mobility back, but they made him feel comfortable, safe, and at ease, which I'm guessing isn't the easiest thing to do when working with an 8 year old. Thank you ladies and Longevity PT!
Jeannie Cox
★★★★★
I have worked with Brett Bloom for over 16 years, treating my injuries from Athletics, Sports, Exercise, and wear and tear.He is A++++! Very knowledgeable in his Profession, intelligent, motivational, positive, and humorous. I am deeply indebted to him for helping me get through life.He is Very good at diagnosing injuries!Thank you so very much.If anyone can help you get through injuries, it is Brett Bloom!!! He will Motivate you to get better, and keep you dilligently stretching and strengthening.Merci😚
Brian Farmer
★★★★★
Kym S
★★★★★
The entire experience at Longevity Physical Therapy La Costawas positive including staff, level of care, and the therapy room.For nearly 5 months before treatment at Longevity, a recurring injury caused significant pain and kept me from normal activity and exercise.Due to Nick's expertise and great care I've recovered.I'm actually doing better than I was before the initial injury.I've made gains in strength and balance and am continuing to doexercises at home that I learned during my P.T. visits.A huge and unexpected bonus is that I'm having relief from sciatica pain from which I've suffered for years.I've received treatment at several P.Y. companies across the years and they were fine but did not compare with Longevity.It was the first time I received what seemed to me to be a science based diagnostic evaluation.I appreciated Nick's knowledge, consistent, watchful, focus, and kind encouragement.My thanks also to Ali for her excellent , healing, care when she was my therapist for two visits.The office staff was welcoming and skillfuland patiently help with questions and concerns I had about my insurance company.The light from the large windows and the modern, fresh,therapy room was a plus.
Howard Singer
★★★★★
I was in great pain with a torn rotator cuff. After several months of physical therapy at the Carlsbad location my arm is now pain free. I worked with many of the physical therapist and they were all outstanding. I highly recommend the folks at Longevity. I am now back to my normal workout routine.
Michael Dell
★★★★★
My mobility has improved greatly since I started coming here. The therapy is very targeted to get me back to being as good as I can be. I recommend Longevity to anyone I know with movement problems. I work with Rachel mostly and can say she is a wonderful therapist. I am amazed at how quickly she has been able to guide me toward a pain free day.
jordan kellner
★★★★★
Cheryl Waterman
★★★★★
I was referred by my doctor to Longevity about 7 months ago and I am a different person. My physical therapist is Rachel Berman who is a Doctor of Physical Therapy, I am so blessed to have seen such a dramatic transformation in my life with her tenacity with my care. Rachel is consistently assessing my progress which always amazes me. Thanks Longevity!!
Ruth Parrales
★★★★★
Great therapists. Super friendly
Thomas Achtor
★★★★★
I am very satisfied with the physical therapy services I received from Longevity. The one on one sessions with Rachael, PT, DPT, were very productive in helping me to lengthen and strengthen my hamstring muscles to help relieve lower back pain and neck muscles for neck pain. The 40 minute sessions with Dr. Oakley provided the procedures I need to gain strength and flexibility in my lower back and my neck. I highly recommend Longevity to anyone who is in need of physical therapy services.
Xavier Mistretta
★★★★★
I had a hip injury that I needed extensive PT for and Rachel Berman was amazing to work with to help me heal. She was patient, professional and made the PT enjoyable! She sent me home after each session with exercise instructions to work on so that I could keep the momentum going in between our appointments. I highly recommend her and Longevity Physical Therapy. Everyone I interacted with was friendly and professional and the facility was great!
Becky Cohen
★★★★★
Andre, Rachel, and Megan have all been very kind, intelligent, and helpful. I've learned so much from them about how to lessen chronic pain.
Amber Barlow
★★★★★
The staff are all so knowledgeable and welcoming. Chad demonstrates an exceptional ability to progress my treatment without overdoing it. The facility is always clean with the latest equipment in good condition, and they play great music!
C Gilbert
★★★★★
Elizabeth Odenthal
★★★★★
We came to Longevity Physical Therapy for help with a shoulder injury. From the moment they answered the phone they've been nothing but wonderful and helpful. They are easy to schedule with, clean and affordable. Kristin our PT was amazing! She listened to everything my daughter said and developed a plan to help her. She was fun, kind and supportive. We are so grateful to have found Longevity and will be back!
John Tobey
★★★★★
In July 2022 my left knee suddenly became seriously painful, preventing me from everyday activities. It was diagnosed as muscular, so I was sent to Longevity. I graduated in December, fully recovered. I am very satisfied with all the help and support I got from Longevity and, especially, Eric Schulte.
Molly Magerman
★★★★★
I worked with Kristen for a few months and she was able to get me back into running shape. Fantastic group, would highly recommend!
Nancy Bergman
★★★★★
HIGHLY recommend! Kevin, PT and manager of the La Costa branch is very knowledgeable and caring. The clinic is clean and runs efficiently. The staff are professional and friendly.
Seever Sulaiman
★★★★★
Longevity Physical Therapy has been a godsend for me. They're a fun group and very professional. I got the pleasure of working with Kevin Greer who specializes in golf player recovery. I appreciate how he got me started slowly on exercises and eased me back into recovery. I had a micro discectomy and laminectomy but was able to play again after six months all credit to Kevin for his thoughtful and methodical program for me.
Luke Dix
★★★★★
Unfortunately over the past 15 years I've been to a lot of physical therapists, so trust me when I say this place is the best. The entire staff is incredibly professional and knows how to help me. Particular shout out to Chad who has been amazing and continues to challenge me to get better. Can't recommend these guys enough
Pam S
★★★★★
Regina H
★★★★★
Longevity Physical Therapy treats the entire body. I really like their approach to treatment. I have been seeking therapy for my neck for over 15 years. Their approach to healing is unlike any physical therapy practice I have ever been to. I appreciate the time that I am given and the focus that my therapist Kristin has while treating me.
Andrew Rubin
★★★★★
I've had physical therapy before but this was the first time it truly made a difference. The team is amazing, I've been working with several different physical therapists and over the several months noticed distinct improvements to my injury. Truly the first time I saw real progress. They are also attentive when other problems came up, helping work through domino issues because of my initial injury, as well as building routines and getting the right gear to help prevent future injuries. Plus, everyone is so friendly, you'll often find the time flying by. It has the feel of a community. These people truly care and love what they do.
Emily Brandenberger
★★★★★
I swear by Longevity Physical Therapy! Kevin Greer is one of the best, I tore my ACL in half and I'm already walking by 3 weeks post op. The most supportive and inspiring staff, I talk about how much I love this place all the time!
Matthew Nesbitt
★★★★★
Awesome physical therapy practice. One on one therapy, very friendly and knowledgeable.
Dwight Baum
★★★★★
Great experience from the beginning evaluation by Breet to the follow up treatments by the therapists, I could not ask for a friendlier yet more professional operation.
Cathy Godfrey
★★★★★
Thank you Ali and the entire team at the La Costa Longevity location. I was able to avoid surgery and recover completely from my injury. It was hard to stop going as it was such a pleasant experience all around. I really appreciate you all and the help you gave me!
mike m
★★★★★
Friendly , nice atmosphere and quality care.
Michelle Gardiner
★★★★★
Efficient, timely and great personal attention for my daughter's sport injury.
Theodore Edson
★★★★★
Absolutely the best!!!
Garrett Nasworthy
★★★★★
I worked with the therapist Rachel Berman on rehabbing an ankle last year. It was a pleasant experience, fortifying my stability in my whole body on top of exercises/routines for my ankle. Friendly, professional service all around and nice facilities. Highly recommended option for PT in the La Costa/North County SD area.
cristina van dussen
★★★★★
So far I have not found anything I don't like about this group and I have been to several over my lifetime and Longevity gets my thumbs up. I definitely feel like their practitioners devote the right amount of time to me.
Joseph Teixeira
★★★★★
I had such neck tension and pain that it generated migraine headaches. So, going to PT was only to have been an interim step to relieve some of the pain while awaiting a neurologist appointment. However, through the daily exercises provided by Dr. Rachel at Longevity Physical Therapy, the relief was miraculous; and, the neurologist recommended I stick with the PT since it was working so well.The location is ideal, the staff very professional and the commitment of everyone at the practice is impressive. My experience has been amazing and I highly recommend you give them a try. Enjoy it…
Thomas Landon
★★★★★
Every physical therapist I've worked with at Longevity has been very knowledgeable, attentive, and friendly. Compared to other physical therapy providers in North County San Diego (and I've been to more than a few...) they're at the very top. I would 100% recommend them to anyone in need!
Brian Dirkmaat
★★★★★
I saw Megan Reinhold at Longevity after a recommendation from a friend at my gym. Megan was outstanding in every way. I had already seen another physical therapist twice for the same issue as well as a chiropractor and a pain specialist. All of them were excellent with no complaints about them. But I learned more from her and feel like I am finally on the right path after seeing her.